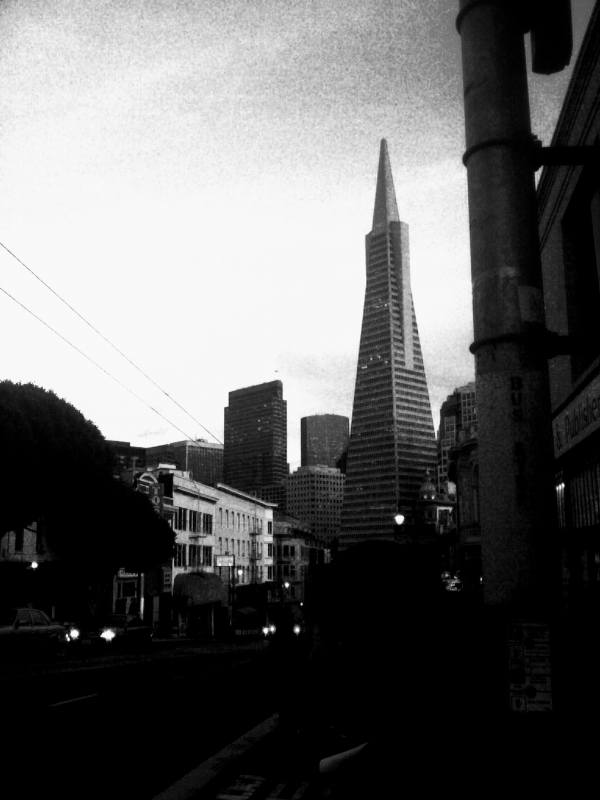 San Francisco '12
Pre-flight thought: this desolate place is giving me the cold shoulder. I've got to get the hell out of here.
The day before my departure, the ground was shrouded in snow. I remember thinking to myself that I won't miss this place one bit. I hadn't left the Northeast in over a decade. I'd tell myself I'd go away for the winter each year, but life would constantly intervene. So about three months prior to this when I had a significant amount of funds in my bank account, I booked my flights. I placed myself in a situation that would cost me if I were to back out. How I decided to go to San Francisco was pretty straight forward -- I kept hearing about it in all the lovely songs. This trip was going to be more than just a two week vacation; it was to be a trip of reawakening what had slumbered for all these years.
My friend Tony dropped me off at the airport. After only 10 minutes, my disdain for our Transportation Security Administration was reassured. My toothpaste and aftershave had to be disposed because they were not secured in a Ziploc bag -- as if that was going to keep anything hazardous contained. I told a fellow traveller that the only reason they called it "custom" was so that we would all go along with it. I spent a total of seven hours in transit and flight, all while accompanied by crying babies. It wasn't all bad; I had a few short but very real conversations with those I sat next to. Granted in the end we won't remember each other's name nor ever meet again, but it was the interaction that counted and how we made the time passed more pleasantly.
Flying into San Francisco at dusk, I was graced with the most spectacular view from up above. Dots of lights, red and yellow, flickering and pacing on a fixed grid.
Charlotte was very sweet to pick me up from the airport. Before this, I'd only known her online through a friend, and we had only spoken a few times over the phone. She took me to Sunnyvale to stay the night. I stayed at this petite motel that looked much like a Mexican villa -- it was quaint and in a good way.
The next day, I ventured around Sunnyvale soaking up the sun. I snapped some shots of the little houses with their red brick roofs. The place reminded me of Northampton but with palm trees. I met up with Charlotte later that afternoon, and we went shopping for cheap shades. We found some for $20 a pair at the first store, but I was reluctant to pay such a price knowing the dirty truth behind the production of most glasses (google Luxottica). You would think that a place named "Sunnyvale" would be stocked up with sunglasses up to your eyeballs. We toured around the whole town hunting for the illusive cheap spectacles but to no avail. I ended up coughing up the $20 -- curses!
We ate and exchanged stories at a Panera Bread. Then, it was time to head north. The sun was setting as we waited for the train. There were kids skateboarding along the tracks. I snapped a shot of Charlotte as she nonchalantly texted away on her iPhone. Moments later, the train arrived. We hugged and bade our farewells; then off I went.
40 minutes later, I was back in San Francisco. I flipped out my Google phone and typed in "hostel." I walked to the nearest one listed, but couldn't find it. I saw a family that was obviously from out of town and lost, so I decided to help them out. Having never been there, I think I was able to point them in the right direction -- ah, the miracles of technology. After checking out a few of the hostels, I came upon San Francisco International Hostel. I was a bit thrown off by the immediate hospitality of the people at the front desk. Walk-ins are normally $40 a night for a dorm without a private bathroom, but I was given a discount of $13. I later checked their site and found out that you could save even more when you book online -- rats, but I still had a pretty good deal, all considering.
I was sharing a room with a few other guys. Most memorable was Robert, a student traveling from Germany. We were all invited to go bar-hopping since it was Billy's birthday. I believe she's from Minnesota, and pursuing her PhD. We took Bart, and got to some hole in the wall with $3 pints. We played table curling, and got to know each other. Everyone was friendly and had an interesting story. I got to meet Peter, Carlos, Lisa, Amy, Billy, Pete, Robert, and a slew of faces I wish I had names to. We drank till midnight, but that wasn't enough to quench our blood thirst, so we brought the party back to the hostel. The hostel provides complementary uses of their entertainment and bar rooms downstairs. I got to know Colte who works on staff at the hostel - a good kid going to culinary school. He hooked me up with some decent herbs -- my first taste of California weed while in California. We rolled a joint and smoked it right out front -- in the middle of the street, and attracting all the local fiends. We hung out till 5 in the morning.
I don't know how I was able to get up before noon the day after, but I was pumped for adventures. With camera in hand, aviators on face, and headphones on, I roamed the streets. I visited Japan town, walked California Avenue, and stood atop Lafayette Park overlooking the city. Up and down the hills of San Francisco, I saw everything in every corner. Like a kid in a candy shop, I took pictures of everything and everyone. The sun was gleaming off the glass buildings. There were inspiring street arts. Homeless people sleeping under trees and in alleys. Exotic cars. Fashion. The beautiful women. I was three thousand miles away from home, and completely immersed in an ocean of people and things.
As I explored the metropolis I reluctantly discovered more of myself. I saw my reflection in every face; in the twinkling eyes of the bums with their sob stories, in the shiny glare of the latex-wrapped transvestites, the brilliant smiles of the girls in blouses, the drooling toddlers on short leashes, the prestigious men in monkey suits, and in every life-filled striving young artist and entrepreneur. I saw the beauty and looked through the ugly. They all reminded me of myself.
...Or was it all because we're only human?
My feet started killing me. I had only brought a single pair of shoes, and they weren't the most comfortable shoes for walking. So I grabbed some Icy-Hot and shoe inserts from a Walgreens - in hindsight, shoe inserts probably only made things worse. I also bought toothpaste -- remembering the TSA incident still made me chuckle. The cream really did help relieve some of the pain.
When I arrived back at the hostel and in my room, Robert was still laying in bed. I convinced him to go out for a some food and check out China town. We were recommended the diner Tori's (or was it Lori's?) up the street by the hostel, so we gave it a try. It was a 50's-styled place complete with framed pictures of Elvis Presley and Marilyn Monroe. There were people with suitcases engaging in some (probably) very important stuff and a guy who looked like he wouldn't be able to pay for his coffee. I secretly watched the waitress, who looks to be from Ukraine or west Europe, as she wipes down a table. I thought to myself, "is this the American dream? To pour coffee? But what do I know? It might only be her part-time job, or she might even be Tori or Lori. Whatever it is, I'm sure she's got an interesting story, or so I'd hope."
We walked to Chinatown and right through it. It wasn't particularly special, but was on a much larger scale relative to the Chinatowns we each have had been to. We strolled to the financial district, and had some espresso at a fancy French cafe. We talked about life, differences, commonalities, women and everything in-between. We both laughed over our perplexity with the opposite sex. Robert's a good looking young lad with a bright future. He said he'll be interning for Adidas when he gets home, and aspires to make it big in the sports business scene.
On the 3rd day, the sky was grey with episodes of slight rain. Robert and I took out the free bikes provided by the hostel. We rode to the top of Buena Vista Park, through Golden Gate Park, across the bridge and back, along Marina St., and up and down Lombard St. I only made it half way up, and had to shamefully push the bike -- Robert, on the other hand, was a beast. Coming down the twisty turns was a bit tricky, especially with the slippery road condition and crappy free bikes we had. In retrospect, we should have gone about it in the reverse order. The air was crisp as we raced through the parks. The partially tamed tropical vegetation looked to date back to the dinosaurs -- swear I've seen them in grade school textbooks. The sight from the Golden Gate Bridge failed to impress me, however, as with anytime you're standing atop a colossal monument, be it man-made or natural, it was quite awe inspiring.
"Coming through on the left." "Keep that bike on the road!" "Sorry, I'm not from around here." "Don't they have rules where you're from?" "Fuck off!" Okay, so I wasn't aware that you're supposed to stay on the road with your bicycle at all time, but, in my defence, there was not a single sign stating such, the road was crowded and you don't have to be condescending about it -- I guess every city has its share of assholes.
That night, Robert and I had our first experience of Jack in the Box. For $3.99, we each got one burger, two tacos, a drink, and fries -- say what?! It was an awesome deal from some okay food. We ate downstairs in the poker room of the hostel. Then we played poker with a few other guests. Out of everyone, excluding myself, Paul was probably the best player I'd say. Born in Germany and raised in America, he's a computer programmer. But the gods were smiling upon me that night -- I took down the game and made 20 tasty bucks. "Alcatraz!" "Check out Alcatraz!" "You've got to see Alcatraz!" Almost as if cognitively injected by a syringe of propaganda, the same answer resonated with everyone I'd asked for suggestions. "Okay, I'll bite," I thought. Robert and I took the $27 ferry over to the island. We went for the tour. We learned a few things. I wandered off to take some pictures. How they've managed to turn this nightmare of a hell hole into something so photogenic and attracting of crowds of families from all over the world was beyond my willing comprehension.
I took it easy for a bit after getting back from the tour. In addition to my feet, my knees started acting up, and it was killing me.
Rose, how could forget that name? This Taiwanese Australian was leaving New York the next day - she'd already been traveling for a couple weeks before we met. I liked that she had an Australian accent - but who doesn't? We went out for a walk. I wanted to hold her hand but she was more timid than I was. We went and got grocery and made a chicken dinner - I had to show her how to cut up the onion, which made me think to myself that I'd make a great stay at home husband some day. The next morning she was gone before I got a chance to say goodbye.
Peter and I explored the Golden Gate Park later that day. We checked out the museums as there were having free admissions. I worked on catalog project for a client when we got back. Carlos, another resident staff of the hostel, and I had been talking about doing some graffiti. He had a large collection of spray paint in his dorm. I made myself a stencil of the Reddit alien making out with the Pedo Bear inside a giant heart. We waited 'til it was dark, then hit up the streets. We went up Market St. and into the alleys. We tagged a few places before my stencil was falling apart. Then we picked up a 30 rack and got back to the hostel. Peter, Colte and a couple other faces joined us. We drank and smoked until morning.
The next night, Pete and I went to check out a band of his friend's. They were playing at a bar in the Chinatown. They were good, and the place had decent cheap whiskey and beer. We had a few rounds. Then all went outside for a toke when the band went on break. We had two joints and three pipes between the seven of us, and it was too much, but in a good way.
The next couple days were chill and hazy. I worked on my project and didn't do much more exploring. I had the idea of hey maybe I could find a job and wouldn't have to fly back. So I went around dropping off my resume and business card. Sadly, I didn't get any callback. Then the day came and I had to fly back.
There were days when the sun hid from gaze behind thick blankets of clouds. Then there were days when it was quite the exhibitionist. Bright and bold like the scarf strapped hipsters with their bug-eyed shades. Shameless and relentless like the destitute wielding coffee cups and rattling their change. The scene was all too common, but not to be taken for granted. Like crashing waves and receding tides, the relics of past eras and the promises of future glory all are deposited on this peninsula. Enticed by the allures of a fast paced, diverse, and open minded but heart guarded city, they were all brought here -- as was I. As poetic as it would have been, I did not have flowers in hair.
I had been miserable. I'd always been miserable, but it was hard to see when you're in the midst of it all. When you're down there in the ditch, down in that pit in that rut. I wasn't always surrounded by misery, But I was too often the misery. However I was comfortable in my numbness, and it worked against me. I didn't think nor cared if there were anything else out there for me. Then I took this trip, and it changed me. I felt like I'd been reborned. I felt that I no longer have to be a prisoner of my own making. And that happiness isn't some mystery needing to be uncovered, nor that we should let come whatever may. No, happiness is out there and it is within reach with minimal effort. I got back to Holyoke thinking I'm getting the hell out of here as soon as I can, and without a moment too soon because my landlord wanted me out. A few months later, I moved to South Carolina for a stretch, then back to MA. A few more months after, I moved out to Seattle which got the ball rolling for my transient life.